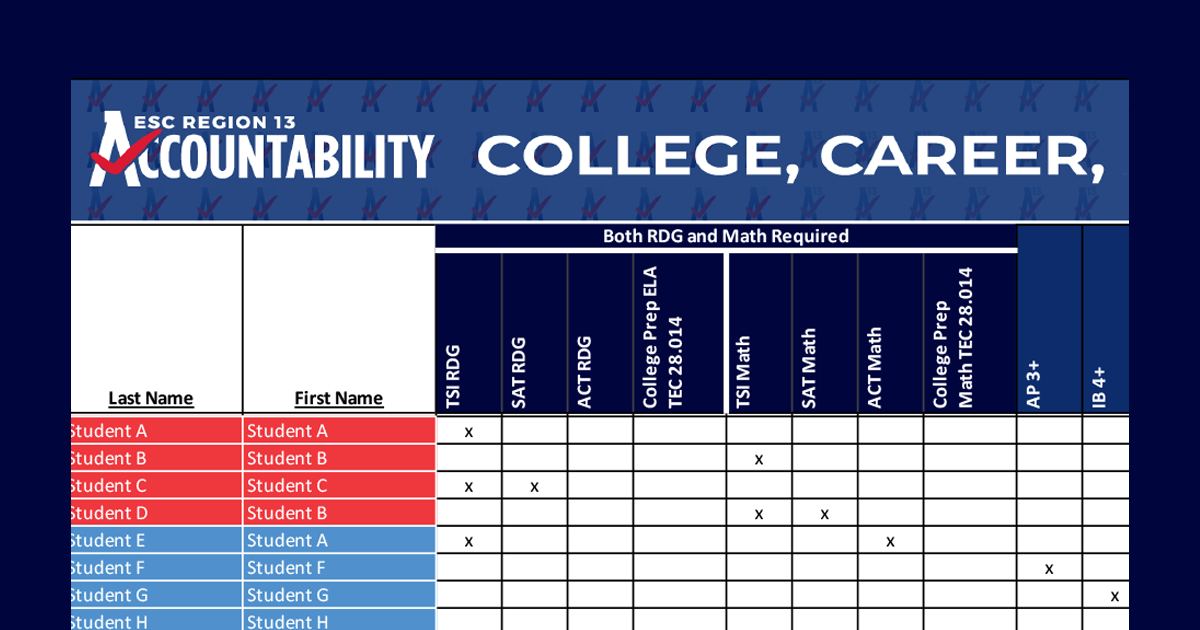 We've created a free tool, an excel spreadsheet, to visually monitor the achievements of your students at your campus by cohort. Our Tracking Tool can be downloaded to your desktop for immediate use.
The spreadsheet is constructed so that when a student has met one of the indicators of CCMR for Accountability purposes, their name will be highlighted in blue. For students who have not met all aspects of a CCMR indicator, their name will be highlighted in red.
This spreadsheet contains three tabs:
The 1st tab is the Instructions to use this tool as you track your student data.
The 2nd tab has examples of senior students and their indicated CCMR achievements.
The 3rd tab is the tab you will use to track the Class of 2020 CCMR Indicators.
When referring to the 4 indicators, if you would like to read additional content related to the indicator, click the website link and search the Texas Education Code or Texas Administrative Code for the specific reference cited.
Using the CCMR Tracking Tool
Watch this video from our specialist, Tisha Kolek on using our CCMR tracking tool.
Get your free copy
Download our free, editable CCMR tracking sheet to help boost your campus Accountability efforts.
Download Now